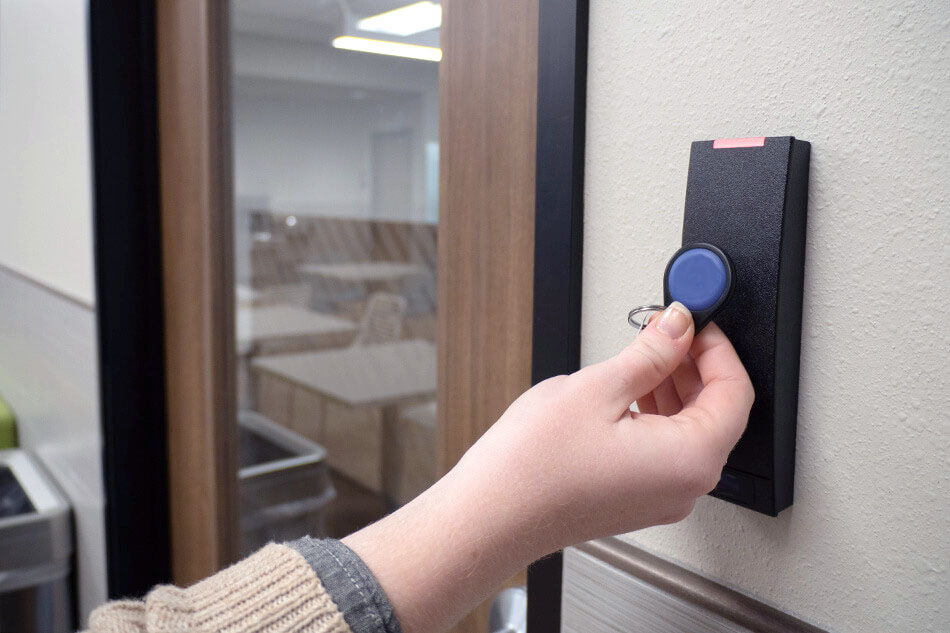 Most businesses, government and school campuses, and homes (including apartment and condominium complexes) have multiple employees, students, or residents. Making sure the right people have access to the right areas at the right time is a top priority to maintain the safety of the occupants, their belongings, and any cash, inventory, equipment, or sensitive information at the location.
An access control component in business, government/school, or home security systems defines parameters for each individual who enters an area. It also can be activated in case of an emergency and used to create an audit trail when investigating an incident. These access control systems can be updated quickly and easily for any changes in an employee's or a resident's status.
Security solutions that combine access control with video intercoms or cameras can help employees and residents see the people who wish to access an area before letting them in. They also can capture images of anyone gaining entry.
How Much Does an Access Control System Cost?
The cost of an access control system and access control installation ranges greatly depending on the type of system, its hardware and software components, and the maintenance of those components. The number of people who need access to your property, the number of doors/entrances at the property, and the type of property you're protecting (for example, a hospital with expensive equipment and pharmaceuticals requires more security than a fast food restaurant) are all considerations when choosing an access control system.
NacSpace, in Nacogdoches, Texas, works with commercial businesses as well as government and educational agencies in Texas and Louisiana to custom design the best access control system for their security and budget needs.
What Types of Access Control Systems Are Available from NacSpace?
NacSpace sells, installs, monitors, and supports the following types of access control systems as well as alarm systems and surveillance cameras. We work with Axis, Bosch, and Galaxy Control Systems hardware and software to create custom security packages that range from granting simple access to allowing you to control all aspects of your building's security with your smartphone.
Stand-Alone Door Entry Systems or Gate Access Systems
For smaller businesses and residential properties, these systems may be more affordable, and they allow each door or gate to be controlled independently.
Card Access Control Systems, Key Fob Entry Systems, and RFID Access Control
Most businesses use key cards, key fobs, and RFID badges to protect employees and sensitive materials because they're more secure than regular keys, they can be activated and deactivated quickly depending on an employee's status, and they're easy for employees to carry and use with minimal training. Also, a door card reader or badge reader doesn't require much maintenance, which helps with the cost, and it tracks people's movements in and out of areas for auditing purposes. If an employee loses a card, fob, or badge, most companies require the employee to pay for a replacement. The same goes for residents of an apartment or condo complex with a residential key fob entry system or key card entry system for its gate control system. These systems can be wired or wireless.
Smartphone Access Control Systems
Some businesses prefer smartphone access control, either wired or via the cloud, to eliminate card, fob, and badge losses and sharing. Smartphone access also removes the need for employees to carry multiple cards, fobs, or badges if a residential complex or commercial, government, or educational campus has multiple building access control systems. Using a smartphone app for access can be a touchless experience, which is convenient for those trying to enter an area with their hands full. Smartphone access also features multifactor authentication to improve security. Guests receive passes with expiration dates and times via text or emails, and administrative departments can manage access to quickly allow or prevent a person's entry to an area. Smartphone access control can be set to business-specific hours for different shifts just like the technology in cards, fobs, and badges.
Biometric Access Control Systems
The cost per door for these biometric systems can be more expensive, but they avoid the disadvantages of keeping up with and sharing cards, fobs, and badges. Biometric security systems incorporate a biometric reader that scans fingerprints, handprints, irises, or faces for employees to gain entry, so employees may need training to use these systems correctly. Also, entering biometric data in the system can be labor intensive.
Door Access Control Systems and Residential Gate Access Control Systems
These can use any of the above technologies or the less secure PIN-code keypad approach, which requires employees and residents to remember a code. The code can be shared with the pizza delivery driver and others, reducing the effectiveness of keypad security systems.
Ready to Select Your Security Access Control System?
NacSpace technicians are ready to walk you through all these options and help you choose only the features you really need for your access control system. We'll run the low voltage security cable to card readers and door locks and mount your reader hardware. After installation, we'll train your personnel on the system and provide follow-up support. If you're already working with other access control companies, we can assist you with their equipment as well.
Our Access Control System Installation Technicians Serve Businesses, Government Agencies, Schools, and Residents in Texas and Louisiana