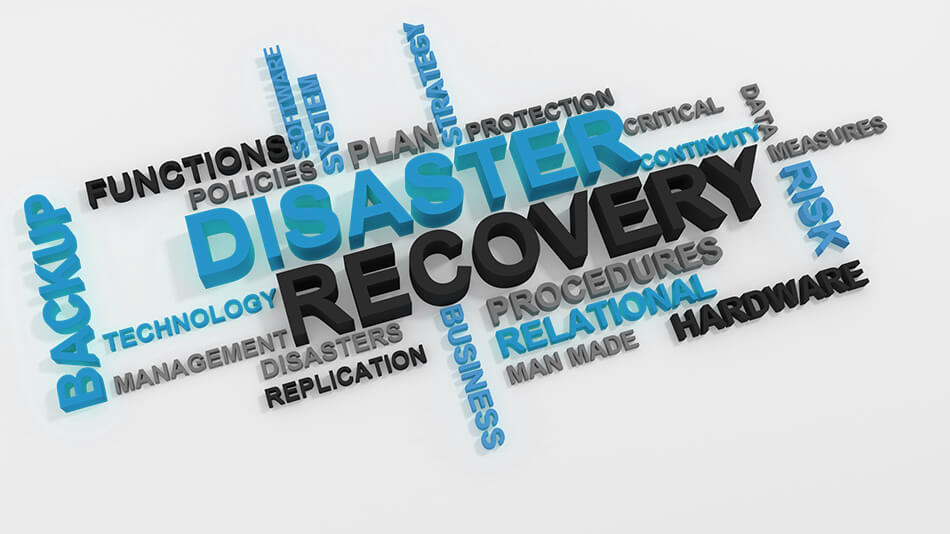 The headlines say it all. Record hurricane seasons, drought, and winter weather. Power grids and water treatment facilities fizzling out under the pressure. An unprecedented number of ransomware attacks on organizations of all sizes around the globe. Add in human error, and it's clear why your business needs a disaster recovery (DR) plan.
Downtime from disasters can cost your business productivity, sales, and valued customers. Lost data can spark lawsuits and harm your brand reputation. But a DR plan featuring disaster recovery as a service (DRaaS) can mitigate this damage and guide you and your business back to normal operations as quickly as possible.
What Is Disaster Recovery as a Service (DRaaS)?
For DRaaS, managed service providers (MSPs) use cloud resources, non-cloud resources, or a mix of both to protect a company's apps and data from disruptions. They ensure you have backups of your systems and data in case they need to be restored.
The apps can run on virtual machines (VMs) whenever needed. The MSP can conduct file recovery and external hard drive recovery and restore deleted files quickly using an online backup.
Where Can I Find Data Recovery Services Near Me?
NacSpace, an MSP located in East Texas, works with organizations to customize their DR plans featuring data recovery services that meet their specific needs.
We offer cloud and non-cloud backup services that ensure your entire infrastructure – computers, OSs, servers, and the data on them – can be restored quickly and affordably. NacSpace can store your backup files in the cloud and/or in replicas securely off-site to protect your data. We also can host a duplicate server with all your content.
In addition to fast recovery of your critical data, NacSpace delivers short backup times, ease of use, monitoring, reporting, and responsiveness. You can rely on us to reduce the stress of your disaster recovery period.
We know that every company's DR plan varies depending on its outage tolerances and the critical nature of its servers. Once we determine your essential services and your acceptable amount of downtime – for example, an hour or half a day – we propose a solution that meets your criteria. You pay for only the services you require. We don't charge you top dollar for a plan that you don't need.
We provide secure cloud and non-cloud backup storage to businesses in Texas, Louisiana, Arkansas, Oklahoma, New Mexico, Georgia, Kansas, Arizona, and Tennessee.
Which Types of Cloud Storage Are Available from NacSpace?
NacSpace Data Center, built on Tier II Plus standards, offers private cloud storage, which provides optimum security; hybrid cloud storage, which combines the private cloud and the public cloud to offer more economical cloud solutions; and managed cloud services, which allow businesses to focus on their customers instead of their IT infrastructures.
You can take advantage of our cloud portability and place your backups in our secure and reliable data center cloud storage.
Which Managed Cloud Service Options Does NacSpace Offer?
NacSpace Data Center managed cloud service options include infrastructure as a service (IaaS), platform as a service (PaaS), and software as a service (SaaS). Our infrastructure, platform, and software management services save you money, time, and IT headaches. They also ensure you're working with the latest technology that best fits your business goals.
With our managed cloud services, you pay for only the IT infrastructure and services you need when you need them. Our IT experts can assess your business at no cost and customize cloud solutions that scale as your business grows.
In Addition to Its Online Backup Services in the Cloud, Can NacSpace Help with Physical Backup and Colocation?
Our data center IT experts can create a variety of replication colocations, either on-premises or off-premises, and a secondary site for your physical equipment.
You can use our clean cubicles, private furnished offices, and conference rooms complete with videoconference technology at our location in Nacogdoches, Texas, to augment your existing facilities or to serve as your main hub during emergency situations.
We're here for non-emergencies, too. If you need to relocate your office staff to keep your business running while your building is renovated, we can help. You also can relocate to NacSpace during minor emergencies, like the loss of your internet connection for several days.
Our high-speed internet along with our IT, receptionist, and shipping and receiving services can support you while you return to normal operations. And the bottomless tea and coffee, full kitchen, and food market in the breakroom are available to all data center clients.
Ready to Make NacSpace Part of Your Backup and Disaster Recovery Plans?
From simple backups and restorations to colocation, NacSpace can help. Contact us for a free consultation.