NacSpace helps you choose your next printer for your business, based on your duty cycle, paper size, and toner capacity needs, and installs it for you.
If you already have a printer you love, we offer support and repair services for almost every printer brand on the market.
Our resell printer and scanner parts can save you money.
Our 24/7/365 HelpDesk is always available to help troubleshoot printer issues.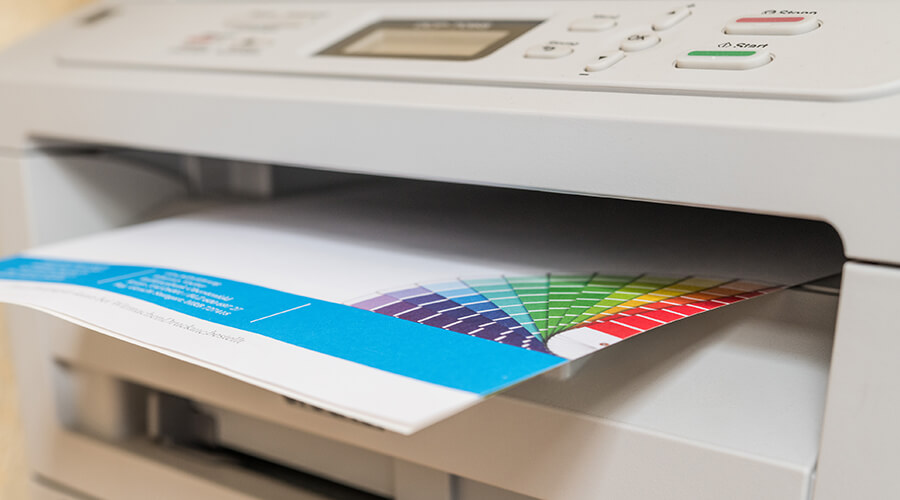 ---
A printer is a valuable tool for any office, home, or business. From proposals and business reports to event posters and product brochures, printers and the documents they produce are an integral part of not just business but also our everyday lives.
That is why choosing the right printer to meet your needs and keeping it well maintained are crucial to achieving your business goals.
Printer Sales & Setup
Are you ready to purchase a new printer? If so, the choices out there might seem overwhelming.
Should you go with a color printer or a black and white printer?
What size printer do you need?
Do you need features like hole-punching or duplexing?
Which is better, laser or LED?
To help you select the best printer for your needs, contact NacSpace. We can assess your business, determine which printer is best, and install it. Check out our summary of printer types below.
NacSpace sells and supports a variety of printers, from the newest models of big name brands like HP, Canon, and Dell to older and lesser-known printers. NacSpace has several printer/scanner resell partners, which gives us access to genuine parts and supplies as well as exclusive sales and promotions. Lexmark is our primary resell partner.
Printer Support & Printer Repair
If you just need help troubleshooting your current printer or sourcing repair parts, NacSpace can help with that.
Even if we don't sell your favorite model, we support many brands of printers, including:
HP printer
Lexmark printer
Canon printer
Brother printer
Xerox printer
Dell printer
Konica printer
And many more
Our experienced technicians offer support and repair services to help you keep your vital printers and other related devices up and running.
Quick Summary of Printer Types
There are many types of printers on the market, each with a different set of features and functions. When considering purchasing a new printer, you first need to know your printing needs.
Below, we outline the most common types of printers as well as the kinds of jobs they can tackle.
Inkjet Printer
These printers utilize ink cartridges, drawing on this liquid ink to drip or shoot onto the printer paper. This use of liquid ink makes inkjet printers ideal for photo printing. In addition, inkjet printers come in color printing models as well as black and white printing models.
Inkjet printers range in size from small, portable printers to large models capable of printing blueprints. One type of large model is the continuous ink printer, which has ink tanks or wells instead of cartridges. This allows for more frequent printing with less need for ink refills.
The cost of an inkjet printer is usually very cheap; you can pick up a small model for under $100. However, the trade-off is the continuing need for ink/ink cartridges, which can become expensive over the printer's lifetime.
Laser Printer
This type of printer uses toner instead of ink for printing. Both a laser and heating element are used to apply toner powder to a printed piece of paper. A toner drum lasts much longer than a traditional inkjet cartridge, meaning you can print more.
While you can find this type of printer in a small office/home office format, the most common use is a high-capacity black and white printer, which is ideal for offices that do a lot of printing but don't necessarily need a color printer.
A laser printer is much more expensive than an inkjet printer, but toner and maintenance are much cheaper than ink and maintenance on an inkjet printer.
LED Printer
Similar to a laser printer, this type of printer uses toner but utilizes LED light instead of lasers.
Much less common than other types, LED printers only come in larger formats built for medium and large offices/businesses.
The advantage of an LED printer over a laser printer is fewer moving parts, which means less maintenance and easier/cheaper repairs.
All in One Printers
Sometimes referred to as a printer-scanner or printer-scanner-copier, this is a multifunction printer that can tackle many tasks in addition to printing. Additional functions and features include scanning, copying, faxing, hole punching, duplexing, and more.
All-in-one printers come in both laser and inkjet variations and can support both color and black and white printing and scanning. They also offer wireless printer features alongside the option for connecting to a single computer/device with a printer cable.
Smaller models are great for small offices, and larger models can meet the needs of larger offices/businesses without the expense of additional equipment (i.e., fax machines and scanners).