Whether you are a small business or a large enterprise, NacSpace can provide network design, installation, expansion, and support for your networking hardware, software, cabling, circuits, and devices.
We monitor your network 24/7/365 to detect and address problems before you even notice them.
Our network surveys and security checks ensure you're getting the network performance you're paying for and it's sufficient to meet your business goals.
We troubleshoot your data circuits by contacting your internet provider, placing orders, opening trouble tickets, and making sure the tech resolves your data circuit issues.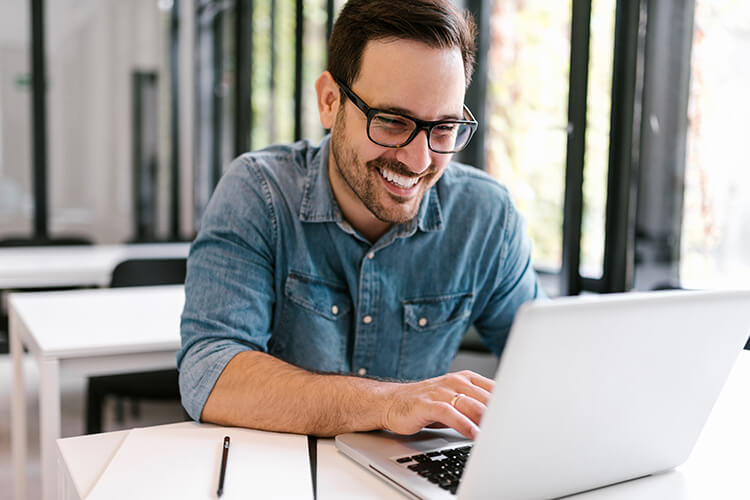 What Is a Computer Network?
A network is made up of a series of devices, such as pc computers, printers, and servers, that are all connected so that resources can be shared and electronic communications can be sent and received. This connection can be via copper cable, fiber, wireless, telephone line, and any other method available for connecting two or more devices.
More specifically there are local area networks (LANs) and wide area networks (WANs). The first is a small network that usually serves just one building or one area. Only devices that are within the distance of your cable or wireless signal can be part of the network. A WAN on the other hand is large and unrestricted by geographical locations. A WAN can serve multiple buildings stretched across different locations on the globe.
Definitions aside, a network should ideally run seamlessly without you ever thinking about it. The various parts and pieces of a network often become noticeable only when your network stops functioning properly. And when this happens it can slow down your business and frustrate your employees.
Here at NacSpace, we want to help you avoid this kind of scenario. So, whether you are just starting out and need us to design your network from scratch, want help in identifying/diagnosing your network issues, or just need to update an old router with the newest and best wifi router on the market, NacSpace is here to help.
New Networking System Installations
If you are just launching your business, or are otherwise in need of a completely new network system, NacSpace can design, install, and manage your network. From the designing phase through a long-term support plan, we can handle it all.
How large is your enterprise? Do you have just one location or many? What kind of security are you looking for? Do you need to limit user access? What level of performance do you need? These questions are just the tip of the iceberg in establishing what kind of network setup will best serve your business.
Once we've established what your needs are, we can begin the setup and installation process. We'll set up and configure the necessary hardware such as routers and switches, incorporate any necessary network cabling (copper or fiber), and install the appropriate software (i.e., firewalls). And we'll help ensure all network devices are connected via Wi-Fi, ethernet, or any other method needed.
Once your network is completely set up and running, NacSpace can continue to provide services for managing your network. Upgrading, reconfiguring your network security to better protect against cyberthreats, and adding new devices to your network are just some of the continued networking services we provide.
Is Your Computer Network Ready for an Upgrade?
In addition to installing new network systems, NacSpace can upgrade your existing network.
Has your company outgrown your current network's capabilities? Are you concerned about ever-evolving cyberthreats? Whatever your concerns or needs, NacSpace can create a custom design to help upgrade your network.
If your business is growing and you need to expand your WAN access and/or install new LAN segments, we can work with you to select the appropriate equipment for any new network closets you need and evaluate the other elements of your existing network to see if they need an upgrade.
What kind of internet circuit or cabling are you currently using? If you are still using T1 connections, it might be time for an upgrade to cable or fiber. Or maybe you are remodeling/expanding your building and simply need to add to what you already have. NacSpace can help your business find the best solution for any circuit and cabling upgrades.
And speaking of upgrades and growing business needs, maybe it is time to consider moving to a software defined wide area network (SD-WAN) or virtual WAN. This type of network solution can improve your overall network performance, especially if you are managing traffic traveling between the cloud and on-premise data centers or utilizing software as a service (SaaS) applications. And the built-in redundancy and security features of an SD-WAN architecture can greatly reduce the threat of downtime.
Assistance for Your Team
Who is currently managing and maintaining your company's network? Are they overworked or overwhelmed?
NacSpace not only provides the physical aspects of installing and upgrading your network's hardware and software but also performs all necessary monitoring, maintenance, and support for your network devices, network cabling, and network security.
Circuit and firewall monitoring are key to optimizing your network's performance and protecting you from cyberthreats. If you are not properly monitoring your network, you will have little warning on potential outages or hacking attempts. And if you are not routinely optimizing your network performance, you could end up stuck with poor network speeds. Imagine having to say no to your customer because your network is operating sluggishly or went down due to a cyberattack. Not an ideal scenario.
NacSpace offers the support you need to help you keep your network up and running as efficiently as possible. We'll monitor you network for cyber threats, optimize and adjust your firewall settings, evaluate the network performance you are experiencing, and more. We have trained network technicians on staff with a variety of certifications including CCNA and CCNP Enterprise. So, if you are looking for professional management of your network, consider contacting NacSpace.
Our Computer Network Technicians Serve Oklahoma, Louisiana, and All of East Texas, including Nacogdoches, Lufkin, Tyler, and Longview, TX.