NacSpace Data Center provides the colocation services you need to reduce latency and improve your reach.
We provide low-cost connectivity anywhere in the U.S.
We offer optional services including proactively monitoring your equipment 24/7/365.
We host active standbys to switch to if your primary system fails.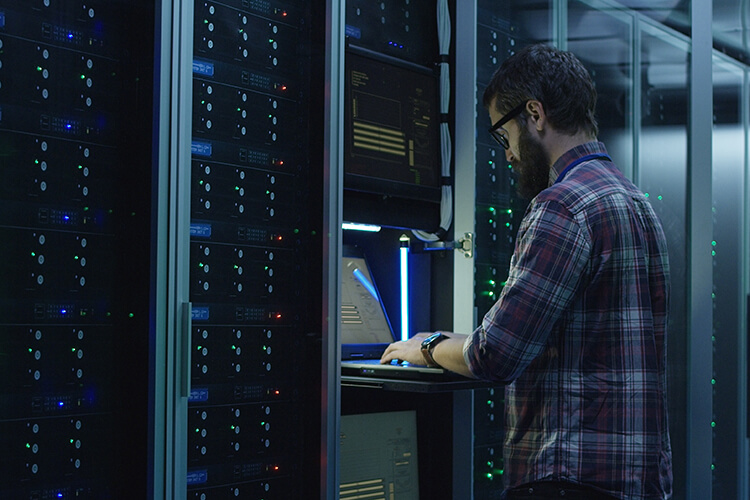 What Are the Benefits of NacSpace Data Center Colocation Services?
More Colo Sites Means Access to More Customers
NacSpace Data Center provides low-cost connectivity anywhere in the U.S. If you're looking to expand your services across the country, we offer colocation options that reduce latency and help you connect with customers faster and more reliably.
Whether you're a content provider improving your service to East Texans or an urgent care facility opening new locations throughout a region, NacSpace can help.
24/7 Data Center Managed Services Provide Optimum Uptime
NacSpace's experienced and responsive technicians are available to assist you with both everyday and urgent issues around the clock 365 days a year. As an optional service, we proactively monitor and maintain your infrastructure hosted at our facilities like it's our own. Let NacSpace Data Center's "remote hands" detect problems early on to prevent failures and to ensure your business stays up and running.
Convenient DR Sites Offer Fast Disaster Recovery
Creating a plan to protect your infrastructure and data when disaster strikes – whether that be a fire, hurricane, or cyberattack – is one of the most important steps to take when developing your business. Unlike a regular disaster recovery (DR) site, colos offer active standbys that don't require spin-up time; customers don't notice the difference between the main system and standby because there's no downtime. If your server goes down, you are rerouted to the closest colocating server without any interruption in service.
NacSpace works with you to design a DR plan and determine your company's acceptable outage times and operating levels. If you need only 25% of your workstations to run during an outage, you pay for only those services. If your business requires less than two hours of downtime, we have the resources to power you back up quickly. NacSpace also offers hybrid DR options that mix on-site and off-site servers.
Though NacSpace provides DR options for businesses in cities including Nacogdoches, Tyler, Longview, and Lufkin, TX, companies beyond East Texas can benefit from our services, too. Businesses in the Gulf Coast region have looked to NacSpace for DR within driving distance but outside hurricane range. NacSpace offers not only system backups but also cubicles/offices, tech support, and PCs and other hardware to help companies resume normal business operations as quickly as possible.
Can NacSpace Data Center Host My Primary System?
One of the biggest hurdles to starting or expanding your business is ensuring your primary IT system has the effective and secure technology you require to serve your customers. You need an experienced IT provider to guide you through your infrastructure purchases and setup, host your system in a safe and secure facility, proactively monitor it 24/7/365 to prevent any failures, and offer a plan for expansion that ensures your employees and customers a seamless experience as servers are added to your infrastructure and relocated as needed.
NacSpace has the experience you're looking for. We originated as the IT services team for Elliott Electric Supply, which was founded in 1972 and now has nearly 200 stores across nine states.
With NacSpace, you don't have to dedicate major real estate in your building to a large IT infrastructure or hire your own network, server, and security specialists. Our certified IT experts at NacSpace Data Center can host, monitor, and maintain your primary system at a much more economical cost so you can focus on your business.
We work with you to create a solution that meets your current needs while offering you the flexibility to expand for future requirements. If you're adding locations, we can build a dependable network that grows with your business using MPLS Layer-2 VPN and other technologies.
With NacSpace, you won't lose access to your infrastructure and data because of our data center's dual power feeds, each featuring an uninterruptible power supply (UPS) provided by our state-of-the-art generator system. You can use our racks, featuring various sizes, power options, and price points, to store your hardware in our secured, climate-controlled cages.
Whether you need colocating services or a host for your primary system, you can rely on NacSpace Data Center. From banking to medical care, our clients offer critical services and trust us to provide the redundancy they need in their networks to access their servers whenever and wherever they need them.