NacSpace offers customized Voice over IP (VoIP) cloud and VoIP PBX phone hardware, software, services, and support to businesses in Texas and Louisiana.
We convert your analog systems to cloud systems or support your current system.
We offer Cisco, Polycom, and Yealink cloud phones or a software application.
Our features include auto attendant, custom music on hold, transferring, and call parking.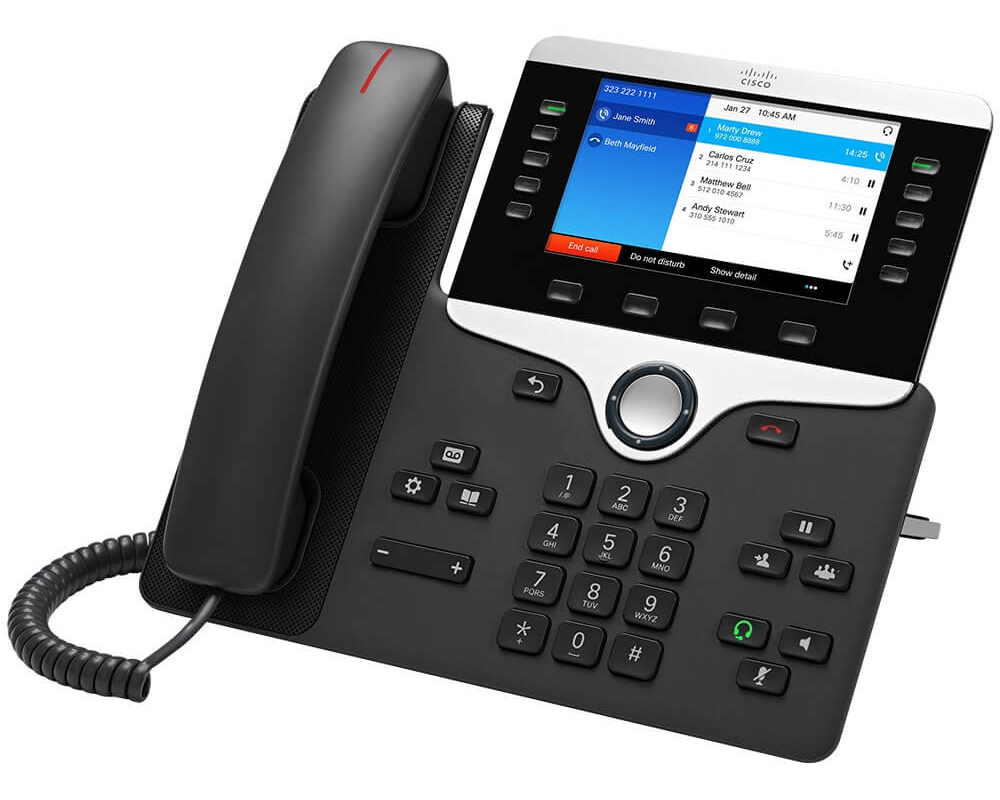 As part of our VoIP services, NacSpace works with you to assess your company's telecommunications needs and provide only the services you require, whether big or small.
We can convert your analog system to VoIP for you. We'll help you choose your VoIP equipment (VoIP phones or a software-based app you can use on computers or cellphones) and port your number over to a VoIP number.
We offer VoIP via cloud or VoIP via on-site PBX, as well as stand-alone VoIP phone systems that also include Session Initiation Protocol (SIP) features. Through NacSpace's SIP trunk services, you can take advantage of customizable call flows, auto attendant, virtual receptionist, caller ID, click-to-dial, custom music on hold, call follow me, call monitoring, call transfer, voicemail-to-email/text transcription, and more.
As a managed service provider (MSP), NacSpace can manage your phone system in house, through a cloud server, or via a server in our data center built with Tier II Plus standards. If you already have a VoIP and cloud provider, such as RingCentral, Vonage, Suddenlink, or AT&T, we can help you troubleshoot your services with them. Or, if you just need hardware, we can provide that. We offer, install, and support Polycom, Yealink, and Cisco VoIP cloud phones and VoIP PBX phones.
Our VoIP phone installation includes optional training for you and your employees to ensure you get the most out of your new technology. NacSpace also can help with other telecommunications products, including microphones, speakers, cameras, projectors, TVs, and intercom systems.
The 21st century is calling, and NacSpace is here to help you answer that call with our state-of-the-art VoIP solutions. Contact us for a free consultation!
VoIP FAQs
What Is VoIP?
Voice over IP (VoIP) has come a long way since its development in 1973 as a technology that converts voices into data packets delivered over the internet.
Combining it with the Session Initiation Protocol (SIP) opened the door to multimedia communications over the internet. SIP technology improved business efficiency with features such as file transfer, instant messaging, and video conferencing.
When businesses discovered they could save money by exchanging their analog phones for hosted VoIP private branch exchange (PBX) phone systems with SIP trunk support, they installed server-based systems like Cisco Call Manager and replaced regular office phones with Cisco VoIP phones. Their SIP trunk providers ensured enough lines to handle incoming traffic and offered features including caller ID, click-to-dial, call queuing, call tagging, and voicemail diversion.
Now VoIP and SIP have headed to the cloud to make phone systems more portable, redundant, scalable, and flexible.
How Can My Business Benefit From VoIP Cloud Phones?
As the pandemic forced more people to work from home, forwarding an office number to a personal cellphone led to a lot of frustration. Companies with VoIP cloud phone systems enabled their employees to simply unplug their work phones, take them home, plug them back in, and continue to benefit from the phone and web conferencing features they use on the job.
This portability and redundancy also can help a business bounce back faster when disaster strikes. For example, if your business is in the path of a hurricane, your employees can unplug their phones, relocate, plug back in, and conduct business as usual until it's safe to return. Your customers won't notice the difference.
If you need to renovate your building, you can move your office space temporarily while providing customers the same high-quality experience. And if your business is growing fast, VoIP digital technology is usually easier to upgrade and scale than an analog system because of its flexibility. It works with the latest communications infrastructure and technologies to meet your company's needs as they change.
Our Cloud Phone Technicians Serve Businesses in Texas and Louisiana