NacSpace offers many types of network firewall security products, from routers with pre-installed firewall protections to custom firewall service packages designed to offer your business the best protection against cyber security threats.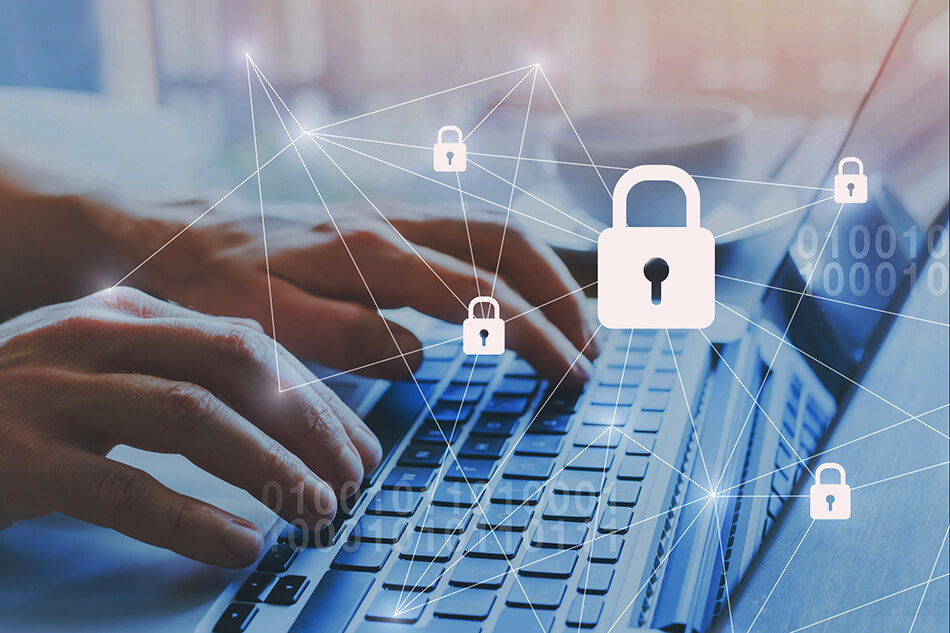 What is a Firewall?
A network firewall helps protect the devices on your network from outside threats. You can think of it as ticket checker at an event. When you try gain entry to the event you are asked for a ticket. If you don't have a ticket, you aren't let in. Or, if you are trying to carry in a prohibited item, you'll be turned away. This is essentially how firewalls work. If the outside server does not provide the information the firewall needs, or it finds suspicious content in the data being sent, the firewall will not let the potential threat through.
The specifics on exactly how a firewall does this depends on the type of firewall. There are many different types of firewalls out there to choose from, each providing a different level of cyber security.
Which Network Firewall is the Best for Your Business
Each type of firewall protects your network in a slightly different way. Some perform just a cursory check of IP addresses while others take a deep look at the addresses, the information being sent, and the request that initiated it. Think of it as the difference between the ID checker at a bar versus an interrogation by the CIA.
So, the type of network firewall that is best for your business will depend on the level of protection that you need. For instance, a book shop will not need the same level of protection that a bank would need.
You might even benefit from the use of multiple firewalls in your network security plan.
Packet Filtering Firewall
A packet filtering firewall is probably one of the most common types of firewall out there. In fact, this type of firewall usually comes pre-installed on your router. This firewall protects your network by checking IP addresses and port numbers against the access control list. If you're not on the list, you don't get in.
This type of firewall does not actually check the core data, or payload, being sent, so there remains the possibility of malicious attacks making it through.
This type of firewall offers a lower level of security but one that works at a fast speed, so it doesn't slow down your network. This makes it ideal for the majority of small businesses, like that book shop that we mentioned earlier.
Circuit Level Gateway
A circuit level gateway firewall is very rarely a stand alone firewall. These are usually used in conjunction with packet filtering firewalls, often coming preinstalled on a piece of hardware (like a router or modem) or as an additional optional software install.
This type of firewall works by focusing on the network protocol messages (TCP). The firewall verifies that the each attempted connection is legitimate. As this firewall operates on the circuit level, it does not evaluate the actual payload.
The circuit level gateway is not designed as a standalone firewall, but can be a great way to add an extra layer of protection to your existing firewall.
Application Level Gateway/ Proxy Firewall
An application level gateway, also known as a proxy firewall is a more advanced type of firewall. It goes past simply checking IP addresses, and fully evaluates the data being sent, to make sure malicious data is not hidden anywhere in the data packet.
Another step this type of firewall takes in protecting your network is by disguising your IP address. Instead of the server you are requesting information from receiving your IP address, it receives your firewall's IP address instead. The firewall then forwards the data requested, to you. So no one outside of your network will have access to your IP addresses. Think of it like using a food delivery service. The service provider takes your order and relays it to the restaurant, and the food arrives on your doorstep. The restaurant never sees you, they only ever meet the delivery driver.
The downside to this level of protection is that it can slow down your network performance, especially if you underestimate the size of firewall you need.
This type of firewall is good for those needing an elevated level of protection, such as a small to medium sized business like a doctor's office or local college.
Stateful Inspection Firewall
The next tier up on the level of protection scale is the Stateful Inspection Firewall. This firewall combines elements of the previously mentioned firewalls into its service. But it goes one step further in its evaluation of incoming data. Instead of just looking at the data, this firewall looks at the whole picture. Does this incoming data match a specific request? Does the format of this data conform to previously received data from this source? By running these checks, this type of firewall can better protect you from more sophisticated cyber threats.
But, much like the proxy firewall, this firewall can have a negative impact on your network performance if you don't choose the correct size for your user count and throughput.
This firewall could be a great choice for those seeking a slightly more enhanced level of protection than what just a Proxy firewall can provide.
Next Generation Firewall/Multi-Tiered Firewall
The most advanced type of firewall is the next generation firewall or hybrid firewall. This firewall is actually a combination of multiple firewalls arranged in a series. For instance a potential cyber threat might make it through the packet filtering firewall only to come up against the application level gateway. Having these firewalls in a series like this offers an extremely high level of protection. An attack might make it through one firewall, but will it make it through all of them?
This type of firewall is usually comes bundled with additional protections including malware detection, antivirus, intrusion protection, and more. The downside to this advanced protection is that it can affect your network performance, so you'll need to select a product with the appropriate level of network speed.
A hybrid firewall is the best solution for those businesses that have a very high level of security risk, like banks and hospitals.
What Types of Network Firewalls does NacSpace Provide?
NacSpace installs and supports firewalls from some of the biggest brand names in the information security business. In addition to the types of firewalls mentioned above, NacSpace offers firewalls with additional cybersecurity features, such as:
URL filtering
Advanced malware detection
Mobile VPNs
IPSec VPN tunneling
and more…
We offer our firewalls in multiple formats including hardware-based, software installs, and even a few cloud options.
Customization, Support, & CyberSecurity Monitoring
Choosing the best firewall (or firewalls) for your business is a critical step in protecting your network from any and all cyber threats. NacSpace can not only help you choose the best firewall, we can customize a solution that fits all of your online security and information security needs.
In addition to designing and installing your network firewall, NacSpace offers continued support and monitoring for your network as well as your firewall. We have certified technicians on staff, 24/7 who can ensure your firewall(s) is operational, up to date, and thoroughly protecting your network from cybersecurity threats.