NacSpace sells, installs, supports, and upgrades audio/visual equipment for businesses, schools, churches, medical facilities, and more.
We sell and service Epson projectors and Dell, LG, and Samsung TVs.
We offer cameras, microphones, and speakers.
Our high-quality, easy-to-use intercom systems and cloud phones provide clear communication.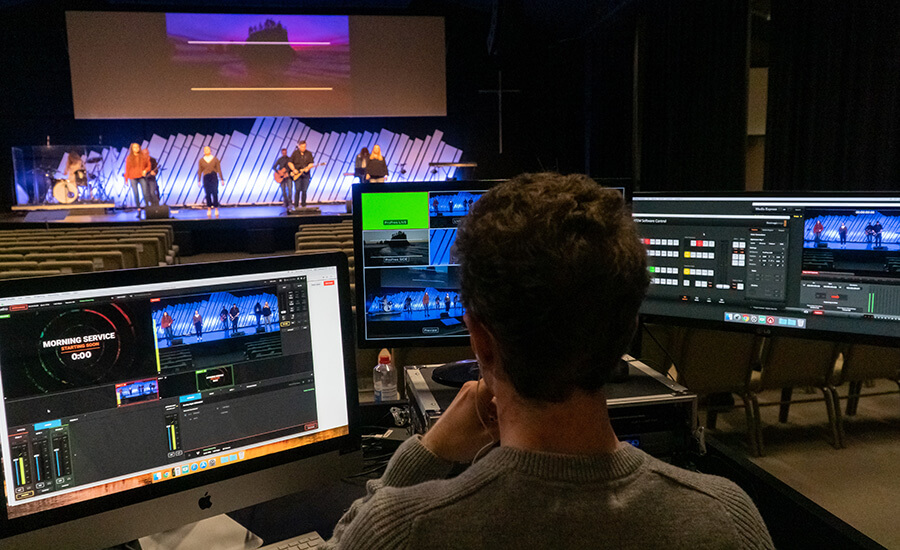 The pandemic has increased the demand for A/V equipment as more employees work from home, more students participate in online learning, more parishioners attend church services via livestream, and more patients embrace telemedicine.
Video Equipment: TV, TV Stand, Interactive Projector/TV/Smartboard, Overhead Projector, Portable Projector, Projector Screen, and Camera Options
NacSpace offers these reliable and affordable visual equipment options to assist with work, school, worship, and healthcare. Certified in telecommunications, our responsive and dedicated audio/visual technicians install your equipment, provide optional training, and offer on-site and remote support 24/7/365. This ensures users a smooth IT experience so they can focus on their work, education, and more.
Not sure which type of TV or projector mount works best for your space (ceiling mount, table mount, wall mount, retractable mount, fixed mount, tilt mount, full-motion mount, custom mount)? Contact us!
Audio Equipment: Intercom System, Cloud Phone, Microphone, and Speaker Options
Our wired and wireless intercom systems include video intercom options for more security. In addition, our cloud phones and software from Cisco, Polycom, and Yealink provide redundancy, scalability, and flexibility. We also offer microphones and speakers.
Conferencing Resources: Zoom, Microsoft Teams, and Skype
Our conferencing resources make collaborating with your team members a breeze. In addition to your A/V hardware, we set up your software and offer optional training so you can get the most out of your conferencing technology quickly.
One-Stop IT Shop
To complement your A/V setup, NacSpace sells, configures, and supports laptops and tablets as well as printers/scanners.
Customized Services
We work with you to tailor our services to your needs, big or small, including supporting equipment you didn't purchase from us. We can customize our installations to your space and needs. Contact NacSpace today!