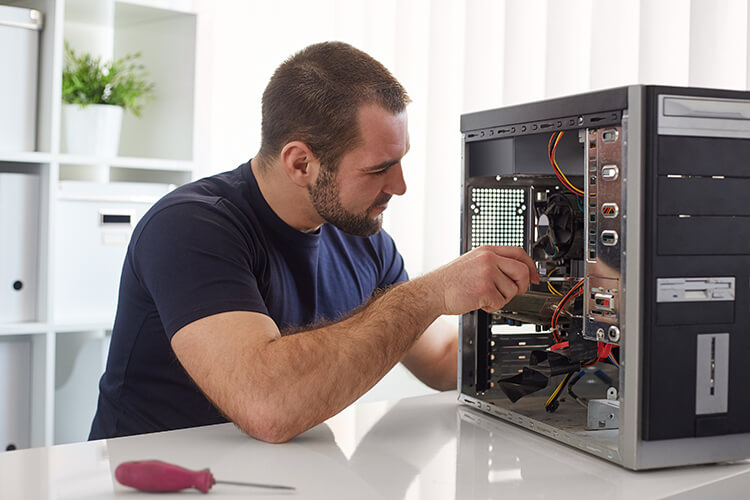 Your computers – whether a laptop, desktop, Mac, or Windows computer – are a vital part of your business. As they slow down, grow more susceptible to security issues, and stop working with the latest software, your business computers can ultimately impact the customer service you provide. You may be asking the following.
Where Can I Find Advice on PC Computer Repair, Sales, and Setup?
NacSpace offers free technology consulting services on PC computer repair and setup as well as sells computers and related accessories to our customers. Our certified IT support technicians and sales team will listen to your business goals and find the right hardware and software to maximize your productivity and uptime within your budget. Then we'll complete your Windows or Mac laptop or desktop PC setup and any future PC repair work you may need.
Do I Install the PCs and Move the Data Myself?
NacSpace can install your hardware and software after setting up your Windows or Mac desktop or laptop; migrate your information and settings to your new system; ensure that your data is secure and backed up; provide phone, computer monitor, and printer setup; and establish your network so your employees can communicate with each other securely and easily.
What If I Need 24/7 IT Management?
NacSpace offers around-the-clock tech support – from data backup to cloud and firewall services – 365 days a year.
Our highly skilled technicians have delivered decades of IT support and services to the nearly 200 Elliott Electric Supply stores across nine states. We're now offering our expertise in PC laptop and desktop computer repair, sales, and setup to East Texas businesses like yours so you can focus on providing uninterrupted, high-quality service to your customers.
Where Can I Find IT Services Near Me?
Businesses in Nacogdoches, Lufkin, Tyler, Longview, Carthage, Center, Crockett, Diboll, Henderson, Jacksonville, Jasper, Kilgore, Palestine, TX, and all the rest of East Texas count on NacSpace's IT solutions to meet their needs.
---