NacSpace, a managed service provider (MSP), offers infrastructure as a service (IaaS), platform as a service (PaaS), software as a service (SaaS), disaster recovery as a service (DRaaS), and backup as a service (BaaS) full-cloud and partial-cloud options to businesses in Texas, Louisiana, Arkansas, Oklahoma, New Mexico, Georgia, Kansas, Arizona, and Tennessee.
We assess your business to see if cloud services can improve your agility and reliability.
We customize our services so you don't pay for anything you don't want.
We save you time and money, improve your security, and ensure your technology is up to date.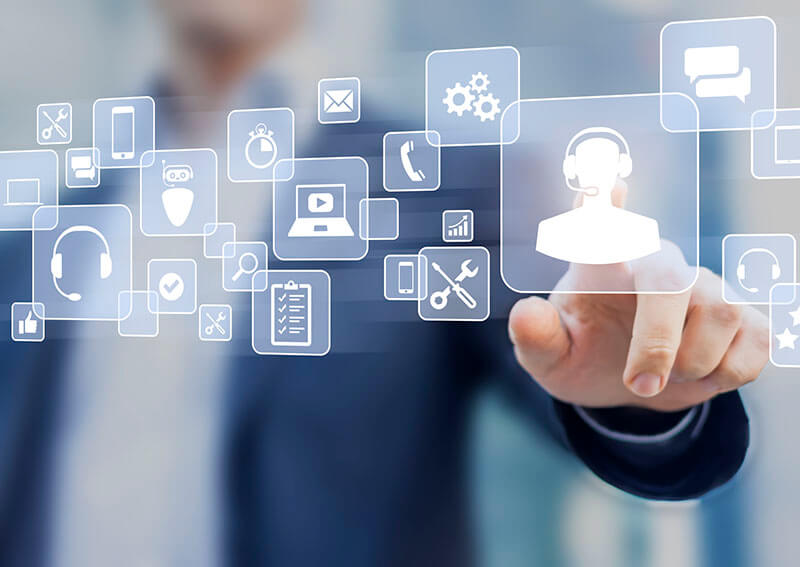 NacSpace can help you reduce cost, increase uptime, update and back up your technology, and position you well for future growth easier and faster through our managed cloud services. If you're asking yourself the following questions, contact us today!
What Are the Benefits of Infrastructure as a Service (IaaS)?
The reliable and secure NacSpace Data Center, built with Tier II Plus standards, offers IaaS to save you time and money and help you focus on your business. NacSpace IaaS features optional on-demand IT support and services as well as storage and security services in the cloud and/or off-site.
With this service, you pay for only the resources you need when you need them. We can bundle IT services to fit your requirements and scale them up or down as your business changes.
24/7 Managed IT Services
With 50 years' experience providing wide-ranging IT support for the nearly 200 Elliott Electric Supply stores across nine states, NacSpace offers the expertise you need to manage your cloud IT infrastructure, no matter where you are.
Our remote hands services team provides 24/7 technical assistance 365 days a year for both your urgent and everyday consultation, purchasing, installation, and service and support requirements.
Data Center Server and IT Infrastructure Services
Our Texas colocation data center houses your servers and other valuable IT equipment in a secure, climate-controlled environment so you don't have to worry about on-premises technology at your business. Our IT experts can conduct server upgrades and troubleshooting anytime you need, and our top-of-the-line generator backup system makes sure your infrastructure is powered at all times.
With access to data centers across the country, NacSpace offers low-cost connectivity throughout the U.S. We can help you reduce your latency and expand your reach when serving geographically widespread customers. For businesses adding physical locations, NacSpace can build a reliable network that grows with demand using MPLS Layer-2 VPN and other technologies.
Network Firewall Security
NacSpace offers firewalls to filter your network traffic and prevent unauthorized access to your data and infrastructure. We monitor servers housed in our data center 24/7 every day to ensure your network's security.
Our different levels of protection include packet filters, stateful inspection, and proxy servers. We also offer web application firewall (WAF) solutions.
Secure Cloud Storage: Private or Personal Cloud, Public Cloud, Hybrid Cloud, and Managed Cloud
NacSpace IT experts carefully listen to your needs to help you migrate your resources to the cloud while ensuring uptime and minimizing security risks. You can choose from the following options:
Private Cloud – Your infrastructure is contained in personal cloud storage with hardware and software only your business can use. You can customize your cloud services.
Hybrid Cloud – To decrease costs, you can use resources in the public cloud for your higher volume, lower security requirements while taking advantage of the private cloud for sensitive needs critical to your business.
Managed Cloud – You don't have to purchase servers, store equipment on-site, maintain networking firewalls, or stay on top of technology updates. As a trusted managed services provider, NacSpace does that for you and adjusts your individual services as you need to scale with demand.
Why Do I Need Platform as a Service (PaaS)?
In addition to the infrastructure coverage of IaaS, NacSpace's PaaS offering includes operating system and middleware support.
Operating Systems: Windows OS, Mac OS, and Linux OS
Need a Windows 10 upgrade or ready to install Windows 11? Let NacSpace do that for you. Our expert IT technicians quickly execute Windows updates to keep your business computers secure and running on the latest technology. We can also update your Mac and Linux operating systems.
Middleware: SQL Server, SharePoint, and WordPress
As the glue that holds everything together and allows you to work beyond your OS, middleware can impact your business operations greatly. NacSpace helps you manage your IT complexity to provide smooth and consistent operations among your systems that both your employees and customers will appreciate.
Database Management and Development Tools – As your business acquires more data, we can help you manage it with custom-made or off-the-shelf database tools. For example, NacSpace supports SQL Server databases with open source and Microsoft tools. For development, we work with Visual Studio, iOS and Android, and some Linux. We can create a solution for your specific development needs.
Website Hosting Services – We can host your WordPress site or a website from another platform on the NacSpace Data Center servers. Your site receives around-the-clock IT support to ensure it stays up and running and remains secure. We can also handle domain registration and website design for you.
How Can Software as a Service (SaaS) Help Me?
With SaaS, you can pay for cloud-based apps as you need them so your employees and customers can connect to them over the internet whenever and from wherever they want. NacSpace supports a variety of software apps to help you minimize the upfront costs of your IT infrastructure and improve your productivity.
Microsoft 365, Formerly Office 365: Outlook, Exchange, OneNote, Word, Excel, PowerPoint, OneDrive, SharePoint, Teams, Planner, and Skype for Business
The cloud-hosted Microsoft Office productivity apps work for Windows, Mac, and mobile platforms. You can email and schedule meetings with Outlook and Exchange, create spreadsheets with Excel, develop presentations with PowerPoint, take word processing to the next level with MS Word, conduct video conferencing with Skype for Business, store your files in the cloud with OneDrive, track your team's productivity in Planner, collaborate and share files through SharePoint, and text and chat via text and video with coworkers using MS Teams.

NacSpace supports all these apps and can help you convert to them when you're ready. If it's time for your business to trade in gmail for Microsoft 365 or Ignite for SharePoint, contact us for help.
Antivirus Software: ESET, Sophos, and Norton
Avoiding viruses, spyware, malware, and other online threats is becoming more difficult for both Macs and PCs as cybercrime grows more sophisticated. NacSpace's virus protection includes ESET and Norton as well as the cloud security apps Zscaler, Sophos, Proofpoint, and VMWare.
Collaboration and File Sharing Software: Cisco Webex, Zoom, and Adobe
When the pandemic struck, businesses sent their employees home to work remotely and safely. This emphasized the need for collaboration and file syncing/sharing tools. NacSpace supports BlueJeans, Cisco Webex, Zoom, Adobe, Box, Citrix ShareFile, SharePoint, and more.
Do I Need Disaster Recovery Services for My Business?
The average cost of one hour of downtime has risen by 30% since 2016, according to an April 2020 Information Technology Intelligence Conducting Survey of executives and IT managers at over 1,000 corporations worldwide. The survey also says that more than 30% of respondents spend from $1 million to $5 million on one hour of downtime.
NacSpace provides a wide range of data backup and data recovery services. If you're just starting your business, consider remote backups that you can use to restore your files if they're encrypted during a ransomware attack. As your business grows, you may need a disaster recovery plan involving a cold site failover or a colocation to minimize your downtime. NacSpace works with you to determine your needs and develop a flexible solution that expands with them.
Backup as a Service (BaaS)
Through its Veeam backup solutions, NacSpace BaaS offers cloud backup services and hard drive data recovery. We can restore deleted files and set up a computer backup system. We offer short data backup times, fast restorations, monitoring, reporting, and flexibility for your cloud, virtual, and physical workloads.
Disaster Recovery as a Service (DRaaS)
NacSpace DRaaS uses cloud computing to help your company recover from a data loss at your facility. We offer secure cloud services that ensure your entire infrastructure – computers, OSs, servers, data – can be restored quickly at an affordable price. You don't need to create an expensive, on-premises backup. Instead, take advantage of our cloud portability and store your backups in our data center's secure cloud storage.
In addition, our data center IT specialists can customize a variety of replication colocations, either on-premises or off-premises, as well as a secondary site for your physical equipment.
Conference rooms, private offices, and cubicles are available at our location in Nacogdoches, Texas, for business continuity plans during emergencies, minor emergencies (internet outage for a few days), or even renovations/remodeling at your location. Our on-site IT professionals can troubleshoot your tech issues as your business returns to normal operations.
Ready to Reap the Benefits of Managed Cloud Solutions?
Contact us for free consultation.