From upgrading existing network hardware to designing and installing new network closets, NacSpace can help meet all your business's network closet needs.
Our follow-up support and optional training simplify network closet maintenance.
We also offer additions, cleanups, expansions, and long-term planning help.
Our low-voltage cabling design, installation, termination, testing, labeling, and certification services cover all your network closet cabling needs.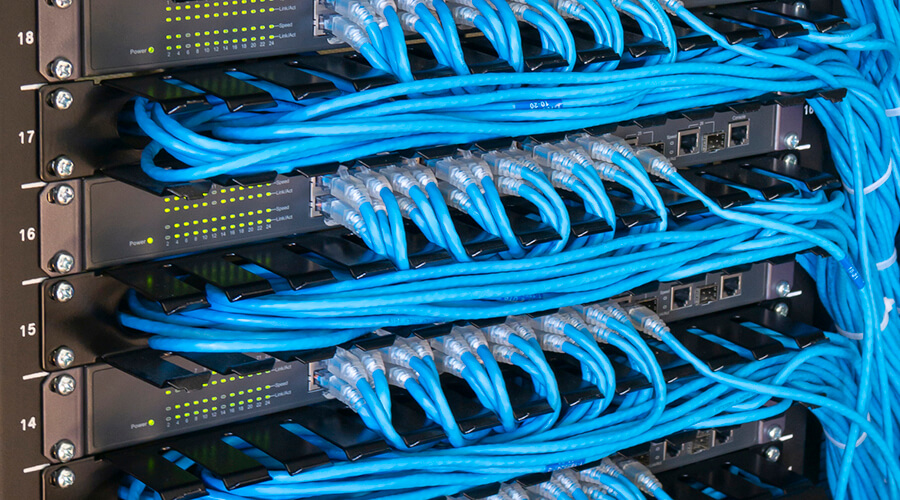 What Is a Network Closet?
A network closet, also referred to as a network wiring closet, is a dedicated space for housing wiring and networking hardware. This space can be a large room or small closet, and, depending on the size of your business, you might even have multiple network closets.
The purpose of a network closet is to store and protect all the critical elements that make up your business's network.
How Can NacSpace Help?
From design and installation to future upgrades and ongoing support, NacSpace can help your business with all its network closeting needs.
If you are launching a new business or expanding into a new location, NacSpace can help you design a network closet to fit your requirements, recommend the appropriate hardware, and install racks, wiring, and hardware as needed.
Suppose your existing network closet is simply in need of an upgrade or a modernization. In that case, NacSpace can work with you to update only the hardware and cabling that needs to be replaced and install it in a timely fashion.
Our certified technicians offer you troubleshooting and ongoing support even if your equipment was purchased from another company. They also can provide design, installation, monitoring, and support for your full network.
Basic Network Closet Design
So what exactly is in a network closet?
A network closet can hold a variety of components necessary for keeping your network and your business up and running.
While the exact components can vary based on your company's needs, below are some common elements that you will find in almost any wiring closet.
Network Rack (Network Cabinet)
The network cabinet/rack is the physical container where the different networking components are stored. These include switches, routers, cabling, storages devices, and more.
These racks can vary in size and design, but they're generally smaller than server racks and offer an open design or optional glass doors, so you can quickly view the rack's contents.
Server Rack (Server Cabinet)
A server rack or cabinet is a dedicated space for housing your servers and associated cabling.
While similar to a network cabinet/rack, server racks usually have a bigger footprint.
If your business is large enough, your servers may be housed in a separate area outside the network closet.
Network Switch
A network switch helps coordinate local network traffic.
Network switches, usually mounted directly on the networking rack, help direct packets to the location they are addressed to.
Selecting the correct network switch is crucial as the network speeds offered vary.
Patch Panels & Cable
A patch panel and the associated cables are essential for keeping your network closet organized and safe.
A network patch panel has multiple ports allowing you to connect all of your networking hardware devices to one central location using a series of short wires called patch cables.
Instead of having long wires running everywhere, a patch panel keeps your cabling organized.
Network Router
How do you connect to the larger WAN outside your office? Through a network router.
Routers are the critical component that allows communication between your internal network (LAN) and the wider world (WAN).
Network Cable
Coaxial cable, fiber optic cabling, and STP cable are all types of network cable. These cables connect the various devices in your network.
These cables not only connect to your devices but also run throughout your building unseen (i.e., in the walls).
Storage Devices
You can use many types of storage devices and setups for your network. Storage can include the use of removable media, disks, drives, and more.
The most common storage systems are:
Storage Area Network (SAN) – good performance and high scalability
Direct Attached Storage (DAS) – lower cost, easy setup, and great performance
Network Attached Storage (NAS) – best accessibility with good scalability
Protection/Security
No network closet is complete without the installation of the devices and systems needed to protect your networking hardware.
Physical security can include security cameras, access control systems (i.e., biometric scanners), and fire suppression systems.
You can also implement uninterruptible power supplies (UPSs), power distribution units (PDUs), and automatic transfer switches (ATSs) to protect your network from power disruptions.
---